Wall Mounted Rectangle Sign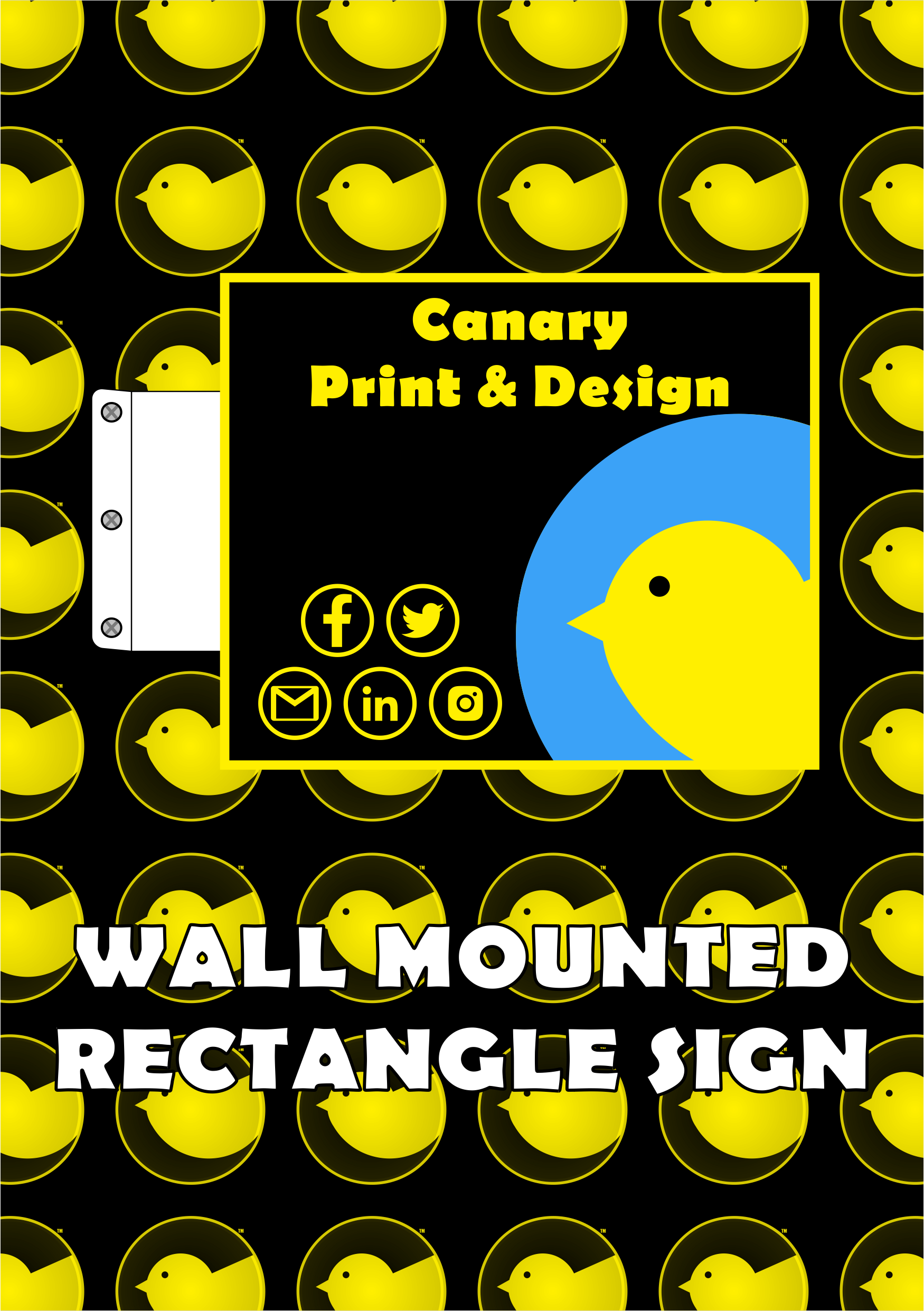 Product details
Manufacturer: Canary Print & Design
Material: 

Sign
Panel: White Powder Coated Aluminium

Graphic
Vinyl: 70 Micron Polymeric Calendered Vinyl 
Laminate: 70 Micron Polymeric PVC
Colour: White
Style: Wall Mounted Aluminium Rectangle Sign
Product Number: WALL-RECTANGLE-SIGN1

Template Download: Click Here

Please Click & Download the above template and send it back to us with any supporting files
Logo's etc. On the File upload boxes above.

Introducing our wall mounted rectangular aluminium sign.
Perfect for shop fronts or market stalls.
This double sided sign allows front and back advertisement of your business or organisation.

The white powder coated aluminium sign coupled with the graphic vinyl and overlaminate
gives years of outdoor life.

Our rectangular wall mounted sign has a 575mm x 417mm double side display panel
And the aluminium panel is 2mm thick
Not including the vinyl or laminated once applied to it.

The wall mount has a 50mm fixing flange, pre-drilled with round fixing holes as standard.
Postioned at 90 degrees to the display panel.

The vinyl graphic comes applied to the Aluminium panel on both sides.
To protect your graphic we laminated it with a hard wearing protective film.
Please keep the sign away from chemicals as it may affect the quality and life of the sign.
Please Note.

30 minutes of design work comes as standard with this Wall Mounted Sign purchase.
This is only to create the print file and not to create the full design.
Anyone wanting us to create a full bespoke sign design.
Must contact us via the Contacts Page all logos and artwork must be supplied in

Vectored format (File Extentions: EPS. Ai. CDR. or PDF.) 

CYMK Colour Mode 

If you supply a J-PEG, PNG or Similar file extention these would require redrawing.
Please upload your image to the following link for a quote 
Vector redraw Quote