Recycled Printed Posters (Gloss 220g/m2 Recycled Paper)
Recycled Printed Posters (Gloss 220g/m2 Recycled Paper) - Canary Print & Design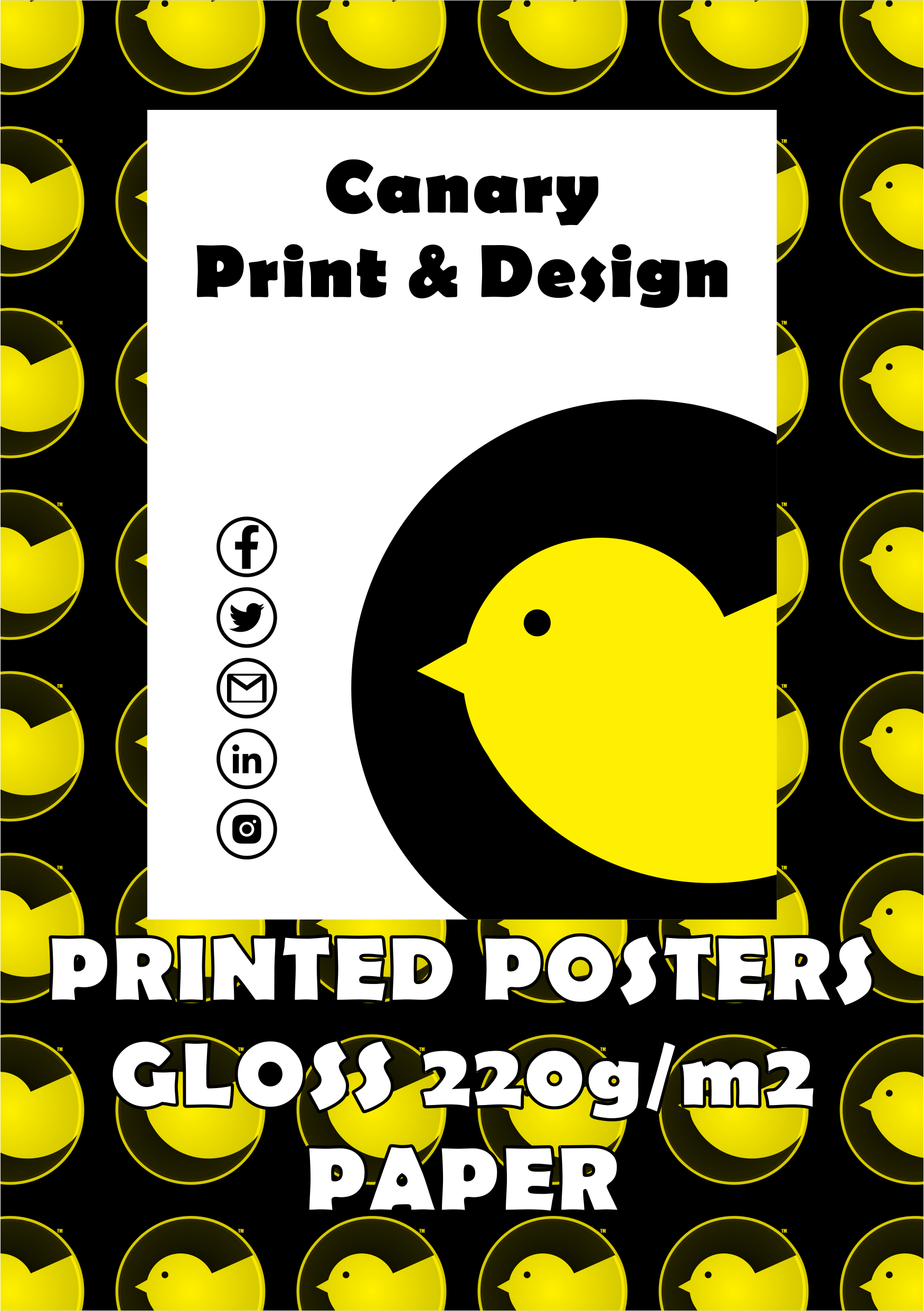 Product details
Manufacturer: Canary Print & Design
Material: Gloss 220g/m2 Recycled Paper

Colour: White
Style: Single Sided Indoor Poster

Product Number: GLOSS220-POSTER

Template Download: Portrait   Landscape

Please Click & Download the above template and send it back to us with any supporting files
Logo's etc. On the File upload boxes above.
Our 220g/m2 poster paper is a high quality gloss paper for high resolution prints.
Specially designed for those who are looking for a recyclable alternative to
the expensive PE complex photo papers. It works perfectly well for all kinds of wide format applications. Thanks
to the excellent combination between the substrate and it's coating, this media gives the highest quality colour
reproduction.

We can create large format posters from sizes A4 to 2A0
With quanties starting from one up to thirty

Please contact us for quanties over 30 and different sizes not exceeding 54 inches in width.
Please Note.
30 minutes of design work comes as standard with this Poster purchase.
This is only to create the print file and not to create the full design.
Anyone wanting us to create a full bespoke Poster design and visual.
Must check the Poster Design box  

All logos and artwork must be supplied in a

Vectored format (File Extentions: EPS. Ai. CDR. or PDF.)
All text must be converted to curves 

CYMK Colour Mode 

Please keep all text and logo's within the Safe Area of the template.
The background colour & artwork you wish to be carry to the edges of the poster
Must be extended to the Bleed area of the template.

Please delete the Safe,Trim & Bleed boxes before sending to us.

If you want us to check your artwork before printing
Making sure the right colour mode, alignment, use of the safe,trim and bleed areas.
We recommend selecting the File Checker box.

If you don't we will print the artwork you have sent
THE CUSTOMER WILL THEN BECOME LIABLE FOR THE ARTWORK & DESIGN.
& THE FULL COST WILL BECOME THE LIABILITY OF THE CUSTOMER.

If you supply a J-PEG, PNG or Similar file extention these would require redrawing.
Please upload your image to the following link for a quote.
Vector redraw Quote