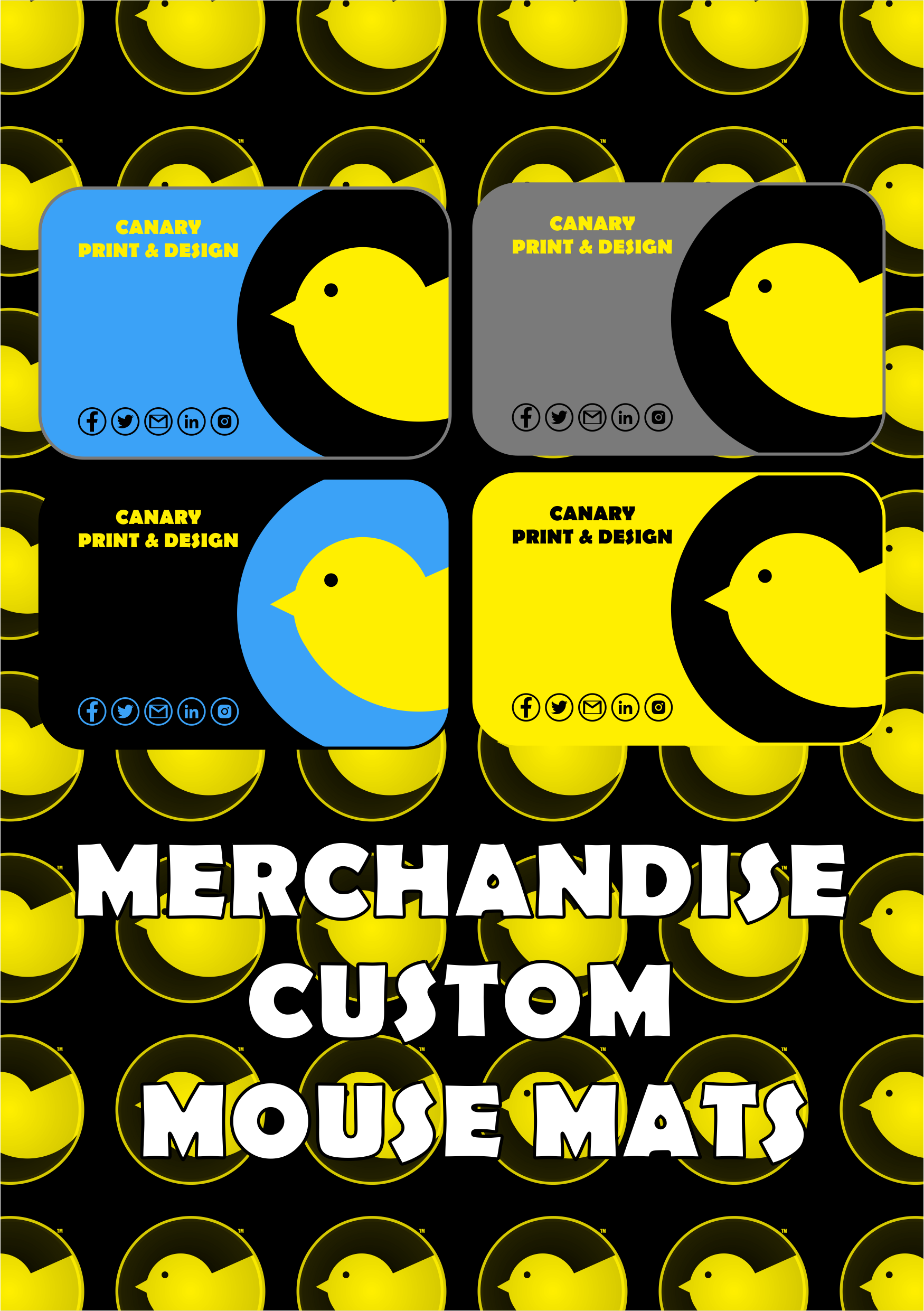 Product details
Manufacturer: Canary Print & Design
Material: Rubber / Sponge Base With A Sublimation Top Coating 

Colour: White
Style: Computer Mouse Mat

Product Number: MOUSE-MAT-5

Template Download: Click Here

Please Click & Download the above template and send it back to us with any supporting files
Logo's etc. On the File upload boxes above.

Create a visual presence with these custom designed Mouse Mats.
Customers will be reminded about your business or oganisation
Everytime they use their computers.

Promote yourself in style with these
custom designed Mouse Mats.

We use a printing process called dye sublimation
to create fresh & eye catching promotional Mouse Mats.
To help promote yourself in the best possible way.

Whether your giving them away or having them on tables around
an event or workplace.
You can be sure your customers will remember you.
For all the right reasons.
All Mouse Mats are printed with a process called Dye Sublimation.
So over time your design won't fade, peel off or click.

Mouse Mat Sizes.

Round 3mm - 20cm diameter
Round 5mm - 20cm diameter

Heart 3mm - 23cm x 18cm
Heart 5mm - 23cm x 18cm

Rectangle 3mm - 22cm x 18cm
Rectangle 5mm - 22cm x 18cm

Rectangle Premium 3mm - 22cm x 18cm
Rectangle Premium 5mm - 22cm x 18cm

Rectangle XL 5mm - 39cm x 30cm


Minimum of 10 Mouse Mats per order.

Please contact us on info@canaryprint.co.uk
If you wish to order more than 50 units.

Please Note.

30 minutes of design work comes as standard with this Mouse Mat purchase.
This is only to create the print file and not to create the full design.
Anyone wanting us to create a full bespoke Mouse Mat design.
Must contact us via the Contacts Page all logos and artwork must be supplied in

Vectored format (File Extentions: EPS. Ai. CDR. or PDF.) 
All text must be converted to curves 

RGB Colour Mode 

If you supply a J-PEG, PNG or Similar file extention these would require redrawing.
Please upload your image to the following link for a quote.
Vector redraw Quote