Business Cards (Single Sided Print)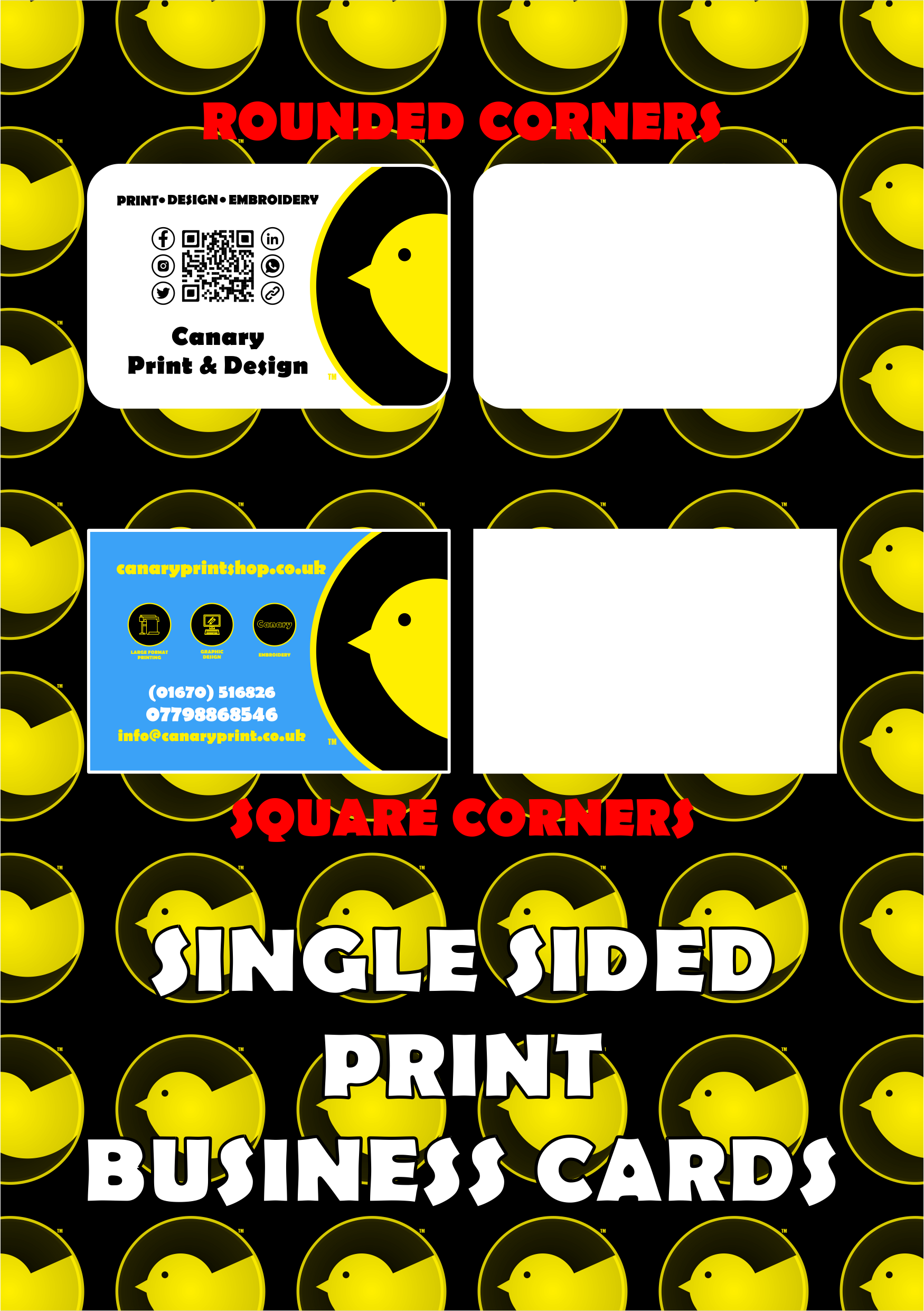 Product details
Manufacturer: Canary Print & Design
Material: 400gsm Silk Card

Colour: Various
Style: Single Sided Print Business Cards

Product Number: SSP-BUSINESS-CARD

Template Download: Click Here

Please Click & Download the above template and send it back to us with any supporting files
Logo's etc. On the File upload boxes above.

Business Cards are the single most important part of marketing for any business.
These offer a gateway to your customer on ways to contact you.
Or check out your website and social media platforms.

Creating a unique and eye catching business card could be the difference.
Between securing that contract or not.

We recommend selecting the custom QR code for your business card
This code links your customer with a quick scan to all your social media
And contact details.
Removing the hassle of inputting all of your details manually.

Please add all your contact details and social media handles
In the Additional Information box if you select this service

At Canary Print we offer a business card design service where
We will design your business card and send a visual for your approval.
If you dont have the time or are not fluent with design
We recommend this service.

Business Card Size

8.5cm x 5.5cm

Minimum of 250 Business Cards per order

Please contact us on info@canaryprint.co.uk
If you wish to order more than 5000 units.
Please Note.

30 minutes of design work comes as standard with this Business Card purchase.
This is only to create the print file and not to create the full design.
Anyone wanting us to create a full bespoke Business Card design and visual.
Must check the Business Card Design box  

All logos and artwork must be supplied in a

Vectored format (File Extentions: EPS. Ai. CDR. or PDF.)
All text must be converted to curves 

CYMK Colour Mode 

Please keep all text and logo's within the Safe Area of the template.
The background colour & artwork you wish to be carry to the edges of the card
Must be extended to the Bleed area of the template.

Please delete the Safe,Trim & Bleed boxes before sending to us.

If you want us to check your artwork before printing
Making sure the right colour mode, alignment, use of the safe,trim and bleed areas.
We recommend selecting the File Checker box.

If you don't we will print the artwork you have sent
THE CUSTOMER WILL THEN BECOME LIABLE FOR THE ARTWORK & DESIGN.
& THE FULL COST WILL BECOME THE LIABILITY OF THE CUSTOMER.

If you supply a J-PEG, PNG or Similar file extention these would require redrawing.
Please upload your image to the following link for a quote.
Vector redraw Quote